As the transition to zero emissions accelerates, companies are increasingly adopting fleet electrification across the supply chain. To successfully transition, a blend of strategic insight, industry acumen, and practical experience and expertise is required to balance the demands of today with the evolving needs of tomorrow. With Prologis Mobility, you can bundle energy, infrastructure and operations into a simple electricity subscription rate that includes:
Guarantee of 98% charger performance uptime
State-of-the-art software to manage vehicle charging and route planning
24/7 maintenance and operations support
Challenge  
A Prologis customer committed to transition more than 100 Class 8 Volvo EVs to align with their net-zero targets. They were faced with multiple challenges including an aggressive implementation timeline, availability of vehicles and charging infrastructure.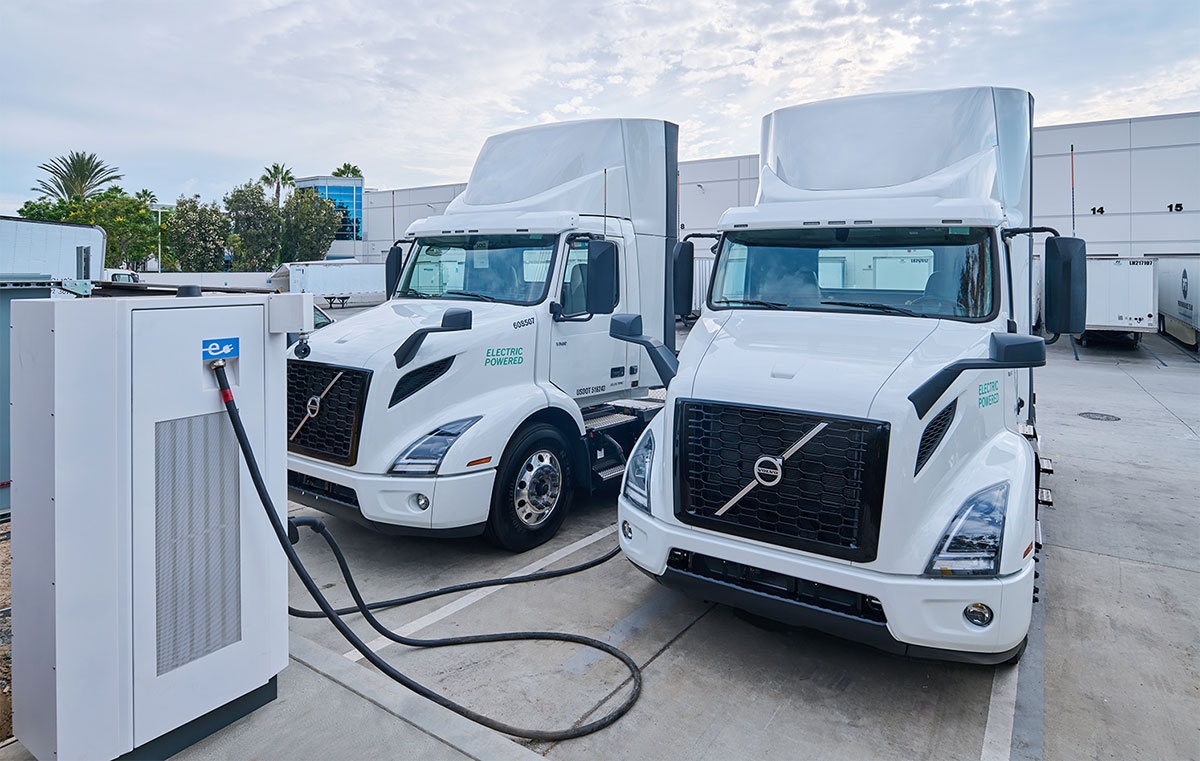 Solution  
The Prologis Mobility team engaged with the customer to understand their unique needs and create a successful electrification plan. They designed and installed the necessary charging infrastructure to support the large-scale rollout of electric trucks, ensuring minimal operational disruption to meet critical deadlines.
Prologis Mobility developed a charging-as-a-service solution to address the customer's electrification needs for the first two implementation phases, encompassing more than 38 electric trucks spread across two sites. The team combined the effort with an onsite truck lot repaving project to minimize costs and ensure a smooth customer experience. They also collaborated with the local utility to facilitate a significant energy upgrade at the site to power the EV charging infrastructure.
Results 
Completed the installation of 2.5 megawatts of electrification capacity, catering to the initial fleet of over 38 Class 8 electric trucks.
Enabled the electrification of 1,760,000 annual miles and reduced carbon emissions by 5,695 metric tons per year.
Generated over $10 million in Indirect Source Rule (ISR) value, complying with emissions regulations in Southern California.
Met the customer's strategic objective to maximize EV adoption and achieve electrification targets on time.
Cut project costs by integrating tenant improvements already underway.
Impact 
Optimized operational efficiency and cost-effectiveness while managing the complexity of a large fleet throughout the electrification process.
Minimized environmental impact by reducing carbon emissions and air pollutants.
Enhanced corporate sustainability initiatives and aligned with the customer's zero-emissions targets.
Positioned the customer as a leader in sustainable practices in the trucking industry.
What It Means  
The successful electrification of the customer's drayage fleet demonstrates the effectiveness of Prologis' comprehensive mobility solutions and overarching expertise in sustainable supply chain transformation. By embracing fleet electrification, the customer took a crucial step toward optimizing and future-proofing their operations.