The global supply chain is in the midst of a major shift to combat climate change and achieve ambitious net-zero targets. As we prioritize decarbonization, the transportation systems that direct the flow of goods are evolving rapidly. Electrified fleets—long-haul trucks, delivery trucks and utility vehicles—stand out as a critical aspect of this shift because transportation is currently responsible for 37% of global emissions. 1
To transition to a sustainable fleet successfully, it's critical to understand the challenges and opportunities you'll navigate on the journey ahead to establish achievable objectives with clear timelines and expectations. Luckily, the road is paved for a smooth drive to zero emissions.
Define success with achievable goals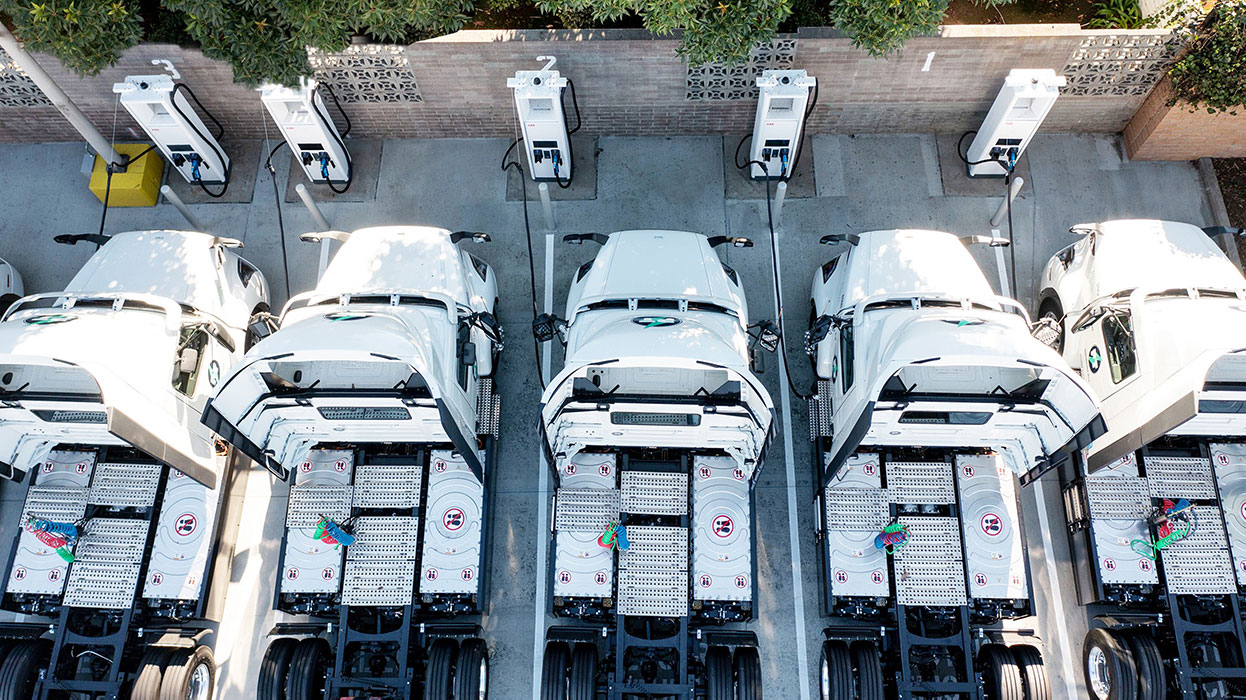 Goal setting is perhaps the most crucial step to transition to zero emissions successfully. The best approach is to define your driving influences and objectives and then articulate the desired outcomes of your transition. In some instances, fleet transition may be motivated by corporate sustainability goals, while other timelines and benchmarks will be influenced primarily by compliance with regulatory requirements. With this in mind, consider your organization's overall net-zero strategy and align your fleet electrification efforts with those objectives. With specific targets established, you can determine where to start with your electric vehicle (EV) fleet and set realistic deadlines to achieve those targets.
Move forward with regulations and incentives as a guide
The regulatory landscape related to EV fleets is evolving rapidly as local, state and federal governments continually introduce new standards. For instance, in California, full EV conversion for drayage operations must be completed by 2035.2 Here are a few additional examples that provide insight into what's to come:
California recently implemented a rule prohibiting the sale of diesel trucks and buses after 2036. 3
The Inflation Reduction Act offers a substantial $40,000 tax credit for electric trucks over 14,000 pounds, among other incentives, aimed at accelerating the adoption of EV fleets.4
The Advanced Clean Fleets Regulation (ACF) in California is aimed to ensure air quality standards and climate goals apply to every kind of logistics fleet vehicle.
Santa Monica conducted a pilot program in 2022 for a zero-emissions delivery zone, granting priority curb access to electric vehicles.
Tie your goals to the regulations and incentives based on where you operate—uncover your unique options and guidelines by leveraging expert resources.
QUANTIFY CARBON REDUCTION AND UNDERSTAND IMPACT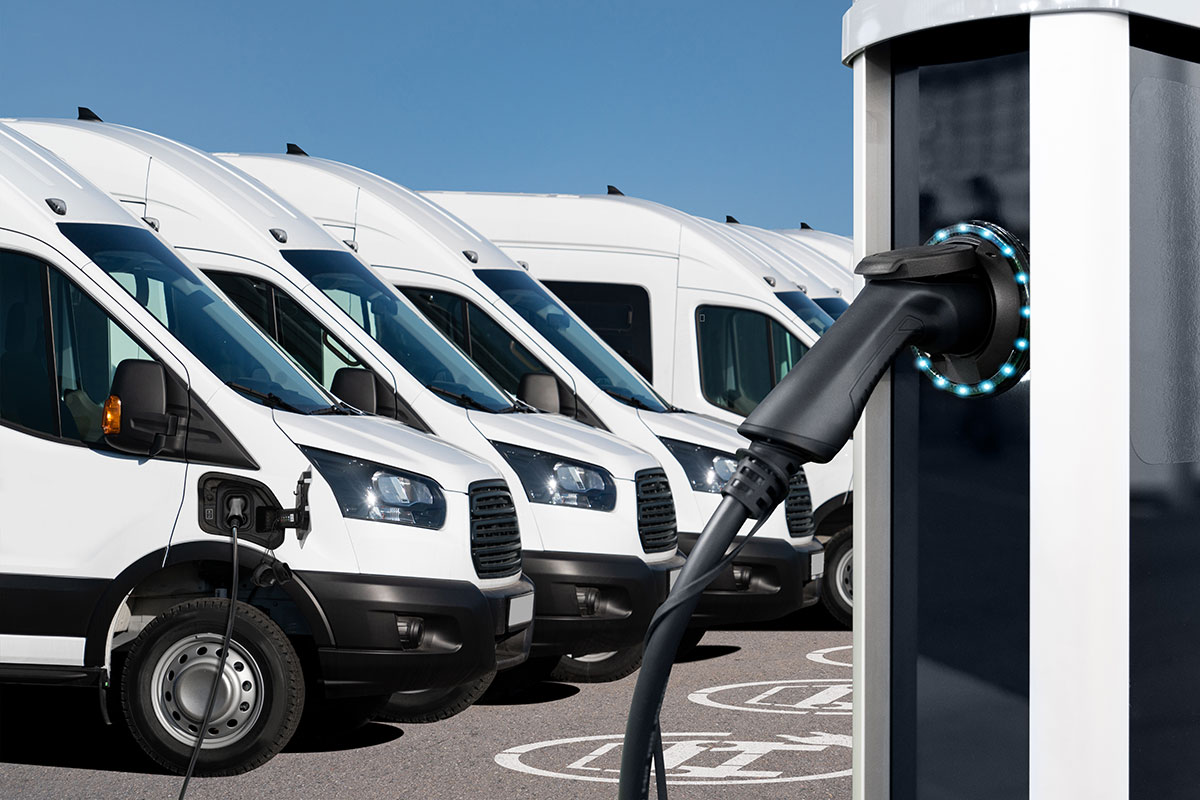 The adoption of electric fleet vehicles can play a vital role in reducing carbon emissions. To achieve your net-zero goals, it's essential to first adopt a holistic approach to measurement. To quantify the impact of electrifying your fleet, assess the carbon reduction potential of different vehicle types, like commuter vehicles, last-mile delivery trucks and large trucks. For example, when one organization converted its drayage fleet of 38 Class 8 trucks to EV, the transition resulted in an annual savings of 5,695 metric tons of carbon dioxide.5 Measurements like this will help you set achievable goals and track your progress effectively.
MAP OUT YOUR TRANSITION WITH REALISTIC TIMELINES
Understanding and setting realistic timelines is essential for a smooth transition to zero-emissions fleets. As you begin planning, it will become clear the shift is a process, rather than a singular event. The complexity of fleet electrification is multifaceted as the industry, equipment and infrastructure continue to evolve.
A project involving site planning, permitting, construction, installation and utility interconnect typically takes nine to 13 months from initial plans to installation and activation.6 Given the state of the supply chain, potential scale, complexity of solutions and urgency in the industry to reach net-zero, it's possible that acquiring and fully deploying a fleet, and getting the necessary utility power to a charging site, can take closer to 18 to 36 months.7 Thoughtful consideration and strategic planning for each element of the process ensures a successful outcome.
Operationalize with infrastructure in mind
Successful fleet electrification requires robust infrastructure. The best course of action is to identify the charging infrastructure needed to support your electric fleet operations and determine the ideal locations available for installation—whether at your warehouse facilities, along highways or at other key transport touchpoints.
If you choose to build infrastructure onsite, you can either manage the development and invest in infrastructure at your distribution center, which may require upfront capital, or you can work with a third party who will assume ownership of the project and charging infrastructure with associated fees. If you choose onsite charging, it's essential to understand the potential charging requirements and constraints—such as energy transmission, capacity and storage—to ensure the infrastructure will scale as needed.
Alternatively, you can use off-site hubs along key highway routes and avoid the need to build and own charging infrastructure. In this case, your fleet would simply use charging services on a subscription basis. It may seem daunting to select the proper path to electrification, but a trusted partner with sustainable logistics and real estate expertise can provide essential guidance as you navigate the complexities of powering your fleet.
YOUR DRIVE TO ZERO EMISSIONS BEGINS HERE
As we strive to reduce greenhouse gas emissions and achieve net-zero goals, electrifying fleets plays a pivotal role in the transition to more sustainable operations. By setting clear objectives, quantifying carbon reduction potential, establishing realistic timelines and planning the necessary infrastructure, you can guide your organization through the shift to electric fleets. Embracing zero-emissions transportation not only helps achieve your net-zero goals—it also positions you and your organization as a leader in sustainability.