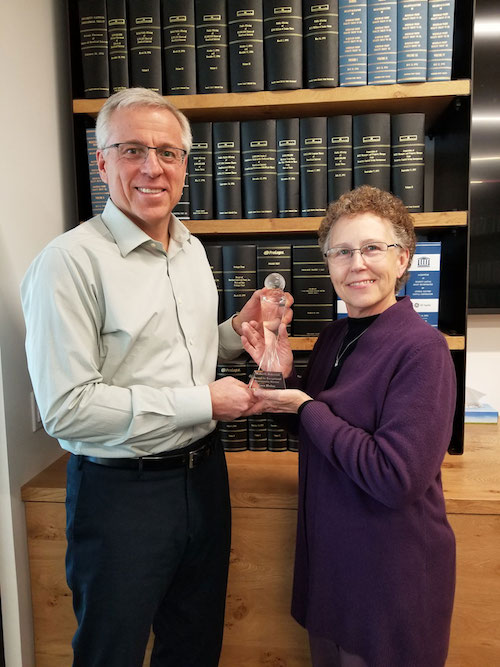 Cara Hulan was recognized with the company's highest honor for community service based on her extensive volunteer efforts. Each year, Prologis bestows the Walter C. Rakowich Award for Exceptional Community Service on the individual, team or office that best demonstrates commitment to community or a cause that builds toward a better tomorrow. The award includes a $15,000 grant from the Prologis Foundation to the nonprofit organization of the recipient's choice.
When presenting Cara with this year's award, Prologis general counsel Ed Nekritz commended her, saying "She does this with an unbelievable sense of humility because giving back is just part of her DNA—and I think she truly impacts the culture we have here at Prologis."
At least three Saturdays per month, Cara volunteers with a Denver-based organization, HIV Care Link, to help move HIV-positive patients to new housing. Cara says, "Many of these people are not only unwell but also live in uncertain housing conditions." She even bought a truck to help with the work. She has used this same truck to amplify other charitable efforts, such as taking excess supplies from the Prologis Denver office to Resource Area for Teaching to ensure teachers in underprivileged communities have materials for their schools.
Cara takes full advantage of the time Prologis gives her to volunteer during work hours. She enlists four times throughout the year at Food Bank of the Rockies, packing food for underprivileged families in the area.
Beyond structured volunteer efforts, colleagues describe Cara as someone who helps people in need to shuttle back and forth from Denver International Airport. After friends have surgeries, she brings them a wheelchair, scooter or other medical supplies.
When the award was announced at the Prologis Town Hall, colleagues in Denver cheered and gave a stunned Cara a standing ovation. Cara spoke humbly of her work on behalf of others, saying "It's my way of life. I like to work behind the scenes. We all have our part. Whatever part you play is important in helping people meet their needs."
The opportunity to help people is one of the reasons that Cara, an employee for almost 14 years, is proud to work for Prologis. She appreciates the executive team for their commitment to volunteerism and giving back to communities, saying "I don't know if you are going to find another company that will pay you to volunteer and offer you the opportunity to be out there in the community to help others." She is also impressed with the company's charitable donations of over $2 million for 2017.
Cara, still awed that she is this year's Walt Rakowich Award recipient, is determining how to divide the $15,000 donation between the many organizations to which she devotes her time and resources.
Older Article
Hamid Moghadam, Tom Olinger, Tracy Ward and the Prologis IR Team Among Members of II's 2019 All-America Executive Team
Newer Article
Prologis Park Tacoma Is World's First WELL Certified Logistics Real Estate Property