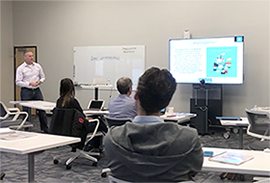 Less than six months after opening its doors, Prologis Labs is accelerating its understanding of logistics real estate customers by attracting industry experts to come and share their insights into current business operations, emerging technologies and industry trends. These insights lay the foundation for providing our customers with innovative products and services that go above and beyond our traditional warehouse location and space offerings.
Consulting firm Compass Supply Chain Solutions visited the center in late March to give an overview of the current supply chain and logistics landscape to members of the Prologis Labs, Ventures and Global Customer Solutions teams. The principal partners of Compass combine 75 years of experience across all disciplines of the end-to-end supply chain working with Fortune 500 companies. The full-day presentation was created in cooperation with the Loyola University Chicago real estate program. Topics included basic principles and key functionality within logistics, emerging aspects of the supply chain, and the drivers of change in the industry.
"The training session was excellent and provided great insights into the core concepts of the modern supply chain and logistics," said Alan Findley, Prologis' senior vice president of Systems Engineering and Emerging Technologies. "We were particularly interested in understanding more about our customers' business operations and the drivers of change in logistics real estate, given that the mission of Prologis Labs is to help our customers adapt and succeed in this evolving environment through ground-breaking innovations."
Replicating the customer experience
In addition to the training, Compass also provided consulting and recommendations on the Prologis Labs warehouse space layout and flow to optimize the configuration for experiments across a diverse set of customer types. The consulting engagement was important as it verified that the initial configuration, flow and layout of the various zones in the Lab (receiving, picking, staging, returns, aisle width, racking configuration, etc.) were on point.
"In a sense, Prologis Labs itself can be viewed as a customer of Prologis in that we lease warehouse space in San Leandro and act much like any of our company's other tenants. This helps us experience the journey from a customer perspective that goes beyond us just asking them what they think about something," Alan added. "The Compass visit validated that the Labs environment is capable of helping us 'walk a mile' in our customers' shoes.'"
A solid foundation for taking big leaps
The Compass training is but one example of the many ways Prologis Labs is researching and gaining insights into the "pain points" our customers are trying to solve so that we can more effectively design and deliver truly innovative products and services. We also work in the Lab with many leading suppliers of logistics products and services, either to evaluate them in the context of an ongoing customer experience or vet them as potential components of our own product or service offerings.
Older Article
Prologis Expands Community Workforce Initiative to Chicago
Newer Article
Investors Paying More Attention to Social Responsibility