Circular Toolbox
Together with partners DoepelStrijkers and M3E, Prologis developed a new way of working for all warehouse construction from this point on. The secret? The Circular Toolbox. The toolbox explains the difference between circularity, cradle-to-cradle and degradable resources and what a Material Passport entails. It also explains how these practices can be implemented. This way of working makes Prologis Park Waalwijk DC3 a prime example of how you can use circularity in your building. Circular eyecatchers? With the help of Erik Koremans (New Horizon) the separation walls are a one-on-one reutilization of materials that come from an old dental office. The floors are made from old fishing nets and calsium which is a waste product from the nearby water treatment facility. The starting point for this project was the question: where can we make the difference today? It made Prologis Park Waalwijk DC3 the new standard for circular building.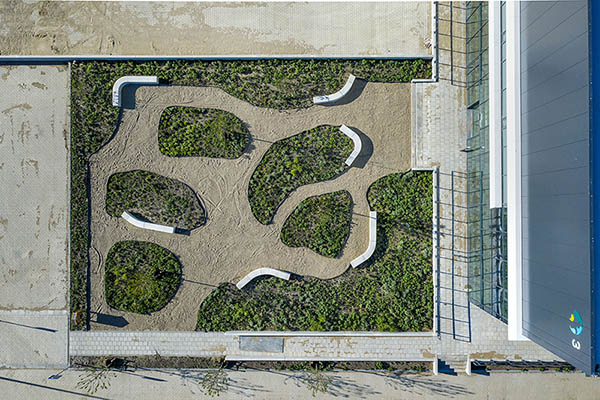 Project Overview
In May 2020, Prologis delivered a partly built-to-suit, partly speculative distribution center of approximately 26,000 (unit A and B) square meters for Tarkett in the Netherlands. This circular project was extra special because of the speed in which it was developed. The Prologis Park Waalwijk DC3 project was initiated in April 2019 as merely a sketch drawing and was delivered at the beginning of May 2020. BREEAM, WELL and Circular standards were implemented inside and out.
Location
Prologis Park Waalwijk DC3 is located in one of the fastest growing logistic regions of the Netherlands, nearby hotspots like Rotterdam and Antwerp (Belgium). The warehouse measures approximately 26,000 square meters.
Use by Tarkett
The current tenant of the Prologis Park Waalwijk DC3 Unit A is Tarkett (formerly DESSO), a leading brand in sustainable and innovative carpet flooring and well-known for their gold certificated carpets. When Tarkett discovered that they could rent a circular property, they saw it as a huge bonus. It perfectly fit with their sustainability goals.
Sustainability
In terms of sustainability, the Prologis Park Waalwijk DC3 scores extremely high. It lives up to the BREEAM and the WELL building standards, but also takes major steps towards circularity. The integration of all three systems marks Prologis Park Waalwijk DC3 as one of the best examples in the market.
Well-being
Focusing on the well-being of the employees in distribution centers is fully in line with Prologis' sustainability and business goals. With the ambition to raise the standards for logistics buildings to an even higher level, Prologis firmly believes in a more human-centric approach in building. To really make a difference.