Improved operations through automation
With third-party logistics companies (3PLs) across the globe experiencing rapid growth, it's time to embrace automation to scale productivity and improve worker efficiency. Introducing robotics solutions to a warehouse environment helps supplement staff and provides the tools needed to improve employee performance and safety. Prologis Essentials helps customers assess their automation needs and provide the right solutions to address what they need right now—and in the future. 
Automation achieves goals
A Prologis Essentials solutions manager (ESM) connected with a customer initially about an LED lighting conversion in one of their 3PL warehouses. After agreeing to an LED solution, the conversation shifted to overall operations, struggles with workforce retention and declining productivity. The discussion ended with automation and collaborative robots (co-bots) proposed as a possible solution.
Benefits with robotics
As the customer looked for solutions to address ongoing staffing and efficiency concerns, it became clear that automation was the correct path. With over 380,000 square feet of warehouse space, however, he was unsure about the number of robots needed, network upgrade requirements and more. Prologis ESMs partnered with Locus Robotics to assess the customer's needs and deliver studies showing the estimated return on investment, increases in productivity and impact on labor retention. Ultimately, the Prologis team:
Organized a cooperative effort between the customer, Prologis and Locus teams.
Arranged an onsite demonstration on short notice with Locus and the customer's biggest client.
Worked proactively with the customer to structure payments in a way that mitigated budgetary concerns.
Upgraded the existing IT network to support the entire automation system.
Installed all-new access and wayfinding points to ensure optimal automated operations.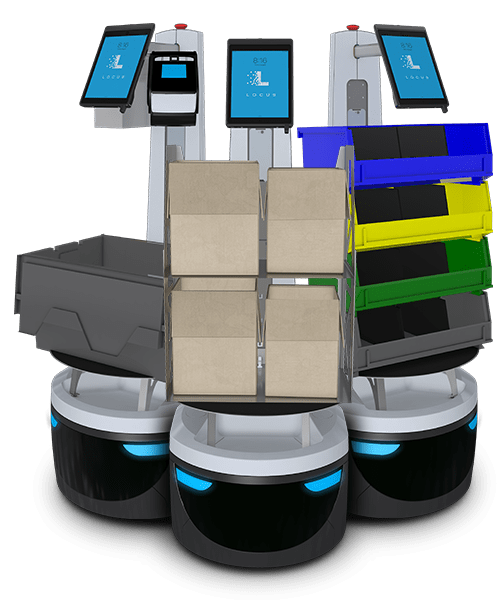 The right solutions
As the customer became more interested in—and more comfortable with—bringing Locus Robotics' solutions on board, the Prologis Essentials allowance proved to be the tipping point. Because the customer's warehouse is a Prologis-owned property, Prologis was able to offer an Essentials Allowance of $50,000 toward the initial deposit for the robotics. This benefit is only available to customers renewing or taking new Prologis space. In this case, the allowance meant zero dollars out of pocket to start a risk-free integration and product launch. The customer trusted the overall proposal and the value of bringing automation on board through Prologis.

Trust in automation to get the job done
Prologis Essentials, in conjunction with Locus Robotics, created a customized plan to illustrate the benefits and impact automation would have on the customer's business. The in-depth analysis provided the confidence to move forward, putting plans in motion to bring a fleet of +Locus Origin bots online to begin order picking assistance in early 2023.
Automation delivers
While the customer awaits the network and full automation installation, Locus Robotics and Prologis Essentials have established performance benchmarks. By working in tandem with the customer, measurable increases are expected in all aspects of business:
2.58 times improvement in baseline productivity during off-peak months.
2.42 times improvement in baseline productivity during peak months.
$1.1 million annual savings in labor costs during peak months.
$845,000 in annual net savings with payback in just two months.
$4.1 million return on investment after five years.
Get Started TODAY
Prologis Essentials helps enterprises of all sizes automate their warehouse operations. Our team of experts will work with you to explore your needs and goals to create an automation strategy that delivers results—every time.