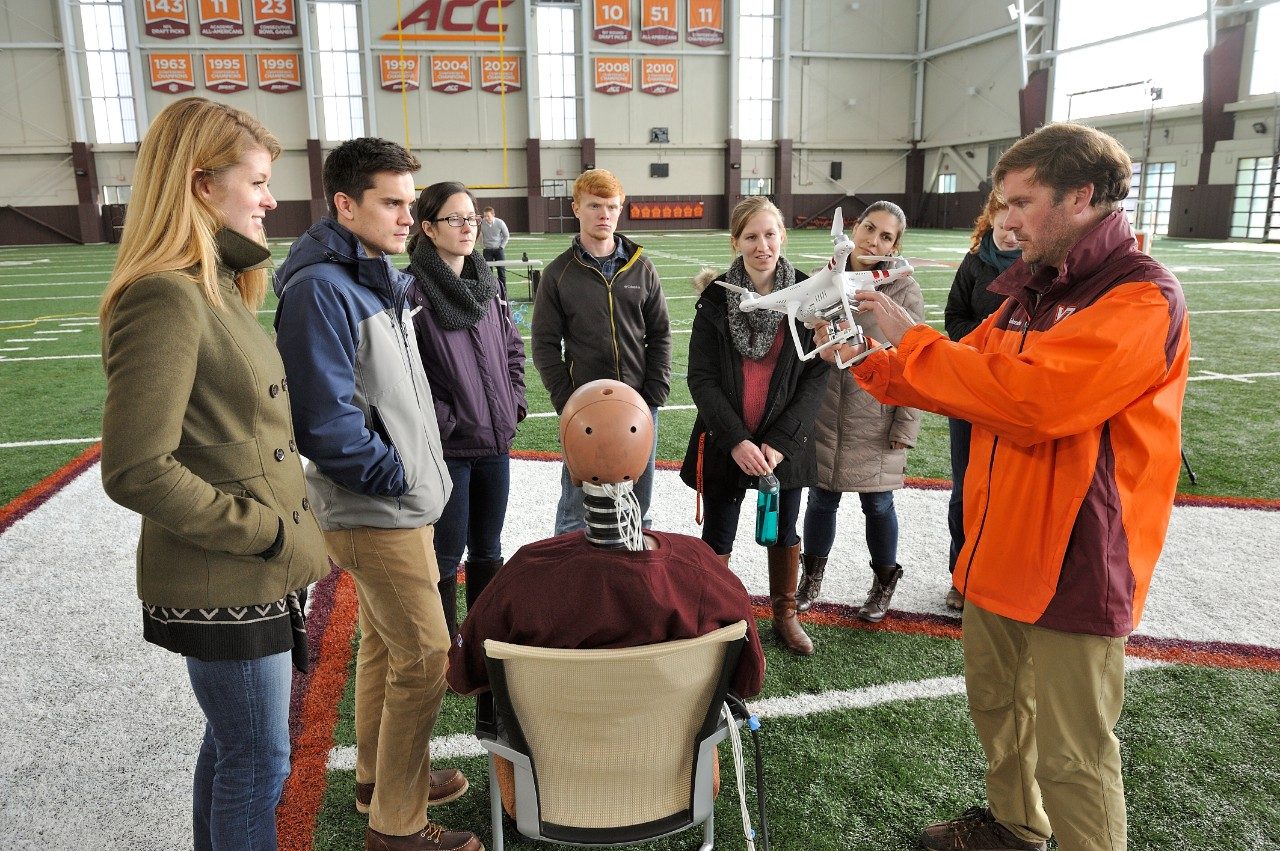 Prologis has been affiliated with Virginia Tech's well-regarded property management program since 2001. Recruiting highly qualified graduates, including Prologis' Greg Azar, vice president of Essentials, and Jen Cooper, director of property management, has always been one of the program's most important benefits. But the partnership is evolving quickly to a higher level of cooperation to drive innovation in logistics and help Prologis stay ahead of what's next.
Drones, Robotics, Autonomous Vehicles and More
In addition to its property management program, Virginia Tech has taken the lead in technology that is becoming critical to logistics. For example, the university has one of only seven Federal Aviation Administration-funded drone programs in the United States.
Virginia Tech's drone program has been granted unique waivers to operate unmanned aircraft over hurricane areas to search for victims and help assess building damage. These real-world tests help confirm the usefulness of drones in commercial applications, including logistics. The work being done at Virginia Tech is closely related to how Prologis envisions using drones in the future.
Virginia Tech also hosts two other research centers of importance to logistics innovation: The leading Center for Packaging and Unit Load Design focuses on the whole packaging system—from pallets to material handling equipment—and the Virginia Center for Autonomous Systems focuses on robotics and autonomous vehicles.
Early Access and Real-World Tests
Our long-standing relationship with Virginia Tech, and the access to new research it provides, helps us design our facilities to enable customers to implement new technologies when they become commercially available. For example, future designs of Prologis facilities will take into account the movement of autonomous vehicles, how they are powered and other important considerations.
In turn, Prologis provides Virginia Tech researchers with access to real-world testing environments to help demonstrate both functionality and ROI. With the opening of the new Prologis Labs, the strong established partnership between a global logistics real estate leader and a top-30 research university can be incredibly valuable to both partners in leveraging research and resources to drive innovation further.
Older Article
Prologis Labs, an Innovation Center, Opens in Northern California
Newer Article
Prologis Named Diversity Champion of the Year at NAIOP's Best of the Bay Awards