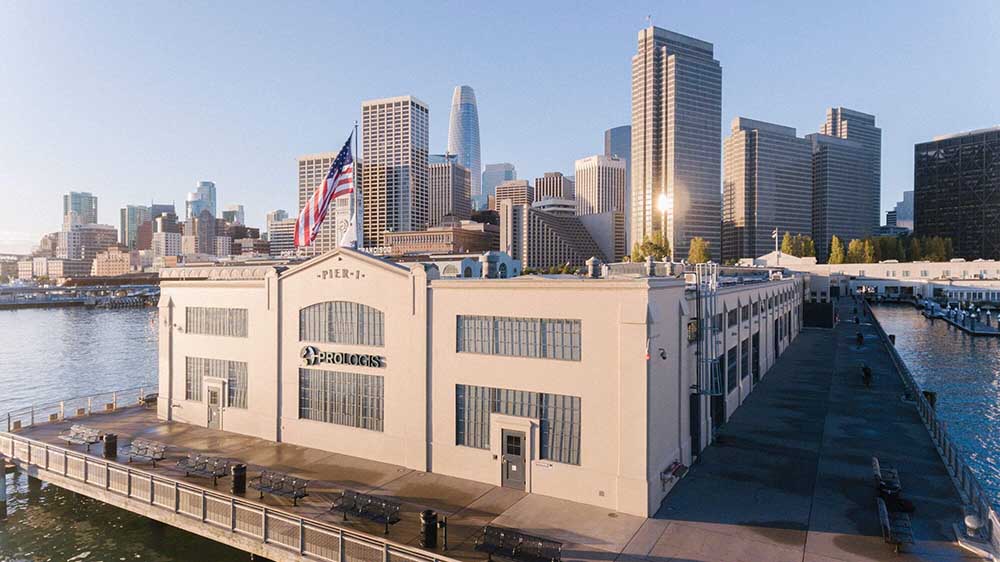 On April 6, Prologis hosted a business update webcast and conference call with investors during which members of the senior management team discussed the company's view of the logistics market and shared company-wide efforts to help communities and customers affected by the COVID-19 pandemic.
"In this fast-changing environment, we wanted to provide our stakeholders with insights from our real-time global data, as well as discuss our current view of the state of the logistics real estate industry," said Hamid Moghadam, chairman and CEO. "Clearly, these are challenging times. However, our business, portfolio, balance sheet and team are prepared to weather this storm."
Taking care of employees and customers
Gene Reilly, chief investment officer, described an environment where "Prologis employees are working from home, but the property and customer teams continue to make exterior property inspections under protocols to keep them and Prologis customers safe while continuing to serve."
He went on to explain that business continuity and communication plans are in place across the organization, allowing all functions of the business to run smoothly. "We have invested heavily in technology and support over the years, allowing our teams to grow accustomed to running the business and communicating with colleagues remotely," Gene said.
Supporting communities across the globe
Gene also discussed the company's efforts to support its communities across the globe. "We take an active role in bettering the communities in which we operate," he said. "In these troubled times, we are enhancing these efforts to provide assistance across the globe in the form of direct cash grants, supplies and the donation of space through our Space for Good program."
To date, Prologis has donated more than 450,000 square feet in five markets, with eight more donations pending in five additional markets. Also, the Prologis Foundation has allocated $5 million in monetary donations to COVID-19 relief organizations globally, with an emphasis on feeding those in need and assisting medical communities that have been impacted so drastically.
"Finally, we are a signatory to the Stop the Spread campaign, pledging bold action to prevent the spread of the coronavirus with a financial commitment and creative solutions to provide relief in local communities," Gene said.
E-commerce driving leasing activity
On the operations side, Gene said that lease signings were up 16 percent year-over-year in March, with two-thirds of this activity occurring in the second half of the month. "E-commerce drove leasing activity, with a nearly 40 percent share," he said. "Not surprisingly, there was little to no activity from customers serving hospitality, brick-and-mortar retail and event management."
Our customers are resilient
During the question and answer portion of the call, Chris Caton, SVP, Global Strategy and Analytics, covered his analysis of today's market conditions. "We are seeing the majority of our customer industries resilient or growing during the coronavirus outbreak," he said. "The consequences of the recession will lead to lower demand for our industry, but it will be temporary and last perhaps six months."
Chris expects a step change higher in trend growth due to the complexion of economic activity. "We anticipate that all customers will tune their supply chains for resilience versus efficiency—five to 10 percent more inventories will translate to real demand for logistics real estate," he said.
'Prioritizing our people, customers, investors and communities'
In closing, Gene said Prologis is entering this period with the healthiest market fundamentals on record.
"We also enter this period with the highest quality portfolio and healthiest balance sheet we have ever had," he said. "Prologis is prepared to make opportunistic investments in the current environment, but we will be patient in doing so as we continue to prioritize our people, customers, investors and communities at this moment."
He along with the other members of the senior management team feel that the current insights Prologis is able to draw from its data—given the scale of its operations around the world—could prove to be the most valuable aspect of the franchise right now.
FORWARD-LOOKING STATEMENTS
The statements in this document that are not historical facts are forward-looking statements within the meaning of Section 27A of the Securities Act of 1933, as amended, and Section 21E of the Securities Exchange Act of 1934, as amended. These forward-looking statements are based on current expectations, estimates and projections about the industry and markets in which we operate as well as management's beliefs and assumptions. Such statements involve uncertainties that could significantly impact our financial results. Words such as "expects," "anticipates," "intends," "plans," "believes," "seeks," and "estimates," including variations of such words and similar expressions, are intended to identify such forward-looking statements, which generally are not historical in nature. All statements that address operating performance, events or developments that we expect or anticipate will occur in the future — including statements relating to rent and occupancy growth, development activity, contribution and disposition activity, general conditions in the geographic areas where we operate, our debt, capital structure and financial position, our ability to form new co-investment ventures and the availability of capital in existing or new co-investment ventures — are forward-looking statements. These statements are not guarantees of future performance and involve certain risks, uncertainties and assumptions that are difficult to predict. Although we believe the expectations reflected in any forward-looking statements are based on reasonable assumptions, we can give no assurance that our expectations will be attained and, therefore, actual outcomes and results may differ materially from what is expressed or forecasted in such forward-looking statements. Some of the factors that may affect outcomes and results include, but are not limited to: (i) national, international, regional and local economic and political climates; (ii) changes in global financial markets, interest rates and foreign currency exchange rates; (iii) increased or unanticipated competition for our properties; (iv) risks associated with acquisitions, dispositions and development of properties; (v) maintenance of real estate investment trust status, tax structuring and changes in income tax laws and rates; (vi) availability of financing and capital, the levels of debt that we maintain and our credit ratings; (vii) risks related to our investments in our co-investment ventures, including our ability to establish new co-investment ventures; (viii) risks of doing business internationally, including currency risks; (ix) environmental uncertainties, including risks of natural disasters; (x) risk related to the current coronavirus pandemic, and (xi) those additional factors discussed in reports filed with the Securities and Exchange Commission by us under the heading "Risk Factors." We undertake no duty to update any forward-looking statements appearing in this document except as may be required by law.
Older Article
COVID-19 and Logistics Real Estate: Learnings from China and our Proprietary Data