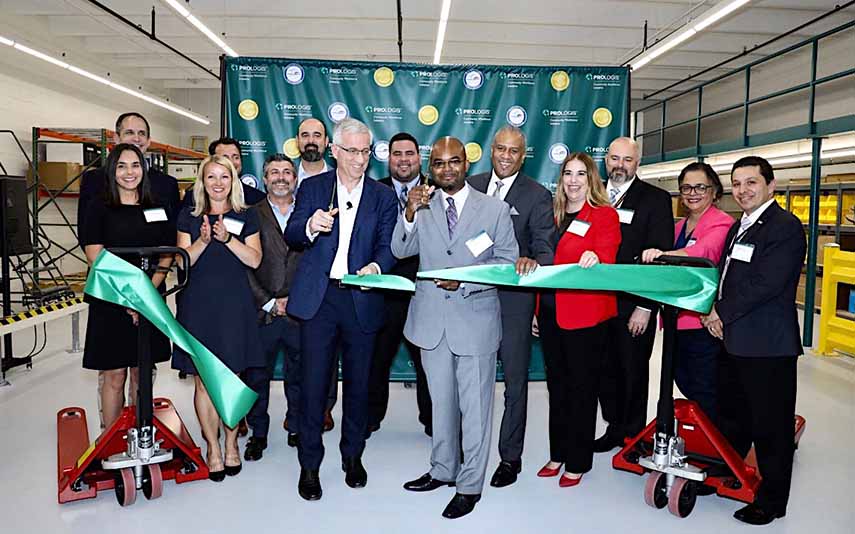 The Prologis Prologis Trade and Logistics Lab achieved a major milestone on May 28 with the grand opening of the Prologis Trade and Logistics Lab at Miami Springs Senior High School. Built in collaboration with Miami-Dade County Public Schools (M-DCPS), the lab will play a critical role in building a pipeline of talented workers for careers in logistics, distribution and transportation.
"The Prologis journey is uniquely tied to the global supply chain, and our customers repeatedly tell us that their biggest pain point is a shortage of skilled workers," said Ed Nekritz, Prologis chief legal officer, general counsel and executive sponsor of CWI. "We also have a vested interest in ensuring that our local communities thrive and it is critically important for Prologis to play a leading role in providing workplace tools and training, internships and rewarding employment with our customers in the high demand logistics field."
Educating More Than 300 Students Annually for Careers in Logistics
Miami Springs Senior High School will house the lab but will reach more than 300 students enrolled in the five M-DCPS high school trade and logistics programs. Throughout the four-year program, students will have access to a state-of-the-art instructional lab, an industry-focused curriculum designed with input from Prologis, and experiential learning opportunities such as career exploration days. Students will also receive career guidance from industry executives and be matched in trade internships after their junior year.
"We are honored to be a part of educating students in the Miami Dade Public Schools and playing a role in developing meaningful careers for our next generation," Ed said. "If our customers can find the right employees, they will stay in the community, grow their businesses and provide more opportunity for economic growth and stability."
Prologis CWI initiatives are also underway in Los Angeles and Chicago, with other cities planned.
Older Article
Investors Paying More Attention to Social Responsibility