Toymaker Snaps Up Space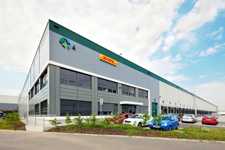 The new 236,800 square foot (22,000 square meter) facility is the fourth in Prologis Park Prague D1 West, one of two Prologis parks straddling the major thoroughfare known as D1 in the Czech Republic. What makes the building so special is that it was the company's first speculative development in Central and Eastern Europe since 2008.
"We felt strongly that the time was right, given the lack of modern Class-A supply and strong demand at this very popular logistics location," said Ben Bannatyne, managing director and region head for Prologis Central & Eastern Europe. 
 By the time the development became known, Prologis was already holding initial discussions with DHL Supply Chain about leasing the new facility.  DHL is Prologis' top customer, accounting for nearly 11 million square feet (over 1 million square meters) leased worldwide.
Within weeks of the announcement, the facility was pre-leased, and construction was completed in March 2014. DHL uses the facility to supply German, Swiss, Austrian and Central-Eastern European markets for its customer Mattel, the global leader in the toy industry.
 "There's no doubt in my mind that our strong relationship with DHL helped the discussions proceed smoothly, and because they have been a customer at Prologis Park Prague D1 West for the past 11 years, they are fully appreciate the strategic value of the location," commented Mr. Bannatyne. "This project also bears out the wisdom of our park development strategy, rather than pursuing one-off build-to-suit agreements."
Learn more about Prologis' platform in the Czech Republic.