Taking Care of Customers in Asia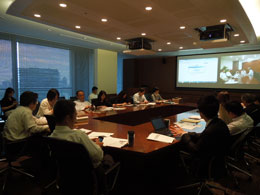 Ready for Emergencies
Long before the earthquake and tsunami of 2011, Prologis Japan had a business continuity plan (BCP) in place. Augmenting the seismic isolation systems in many of Prologis' facilities, the BCP addresses the "human" side of surviving a natural disaster, providing food, water, blankets and communication for both customers and Prologis' employees who may be stranded in the building for several days.
The 2011 disaster proved the viability of these measures. "Half of our associates couldn't go home due to public transportation outages," said Chikako Ibaraki, Prologis' HR manager in Tokyo. "We had food stocked up and blankets so that they could spend the night in the office. And the SECOM Safety Service, which uses mobile devices for data communication, allowed us to get in touch with colleagues family, and cleanup contractors quickly."
Recently Prologis Japan conducted its annual BCP drill—refreshing supplies, undergoing SECOM training, and checking in with all facility management and construction companies. "Preparation and planning are critical to the safety of our employees and to maintaining a resilient platform for our customers and other stakeholders," said Jeff Bray, Prologis' head of global risk management.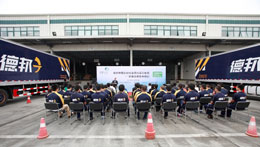 Training for Safer Roads
Prologis China's Road Safety Program, which started as a corporate responsibility initiative to promote awareness about safe driving, has evolved into an engagement tool for stakeholders. Since its official launch in May, attention and response from customers has been so positive that Prologis China recently held its second road safety program at the Prologis Chengdu Airport Logistics Center. The event was supported by the center's three tenants: Deppon Logistics, Geodis and Walmart, as well as Chengdu Shuangliu Traffic Police Administration. Nearly 50 truck drivers and managerial staff were in attendance.
 "We appreciate the training Prologis provided for our drivers," said Chen Songfeng, president of Deppon Logistics, Sichuan Province. "As a leading national level logistics provider, we can't emphasize enough how important road safety is for us. We fully support this worthy cause and are happy to be a part of it."
 "It's great to see more joining of hands," said David Yu, COO, Prologis China. "As the program expands into more cities, we will continue to reach out to our employees, customers, governments and communities, in an effort to create safer roads in China."