Rooftops that Make a Difference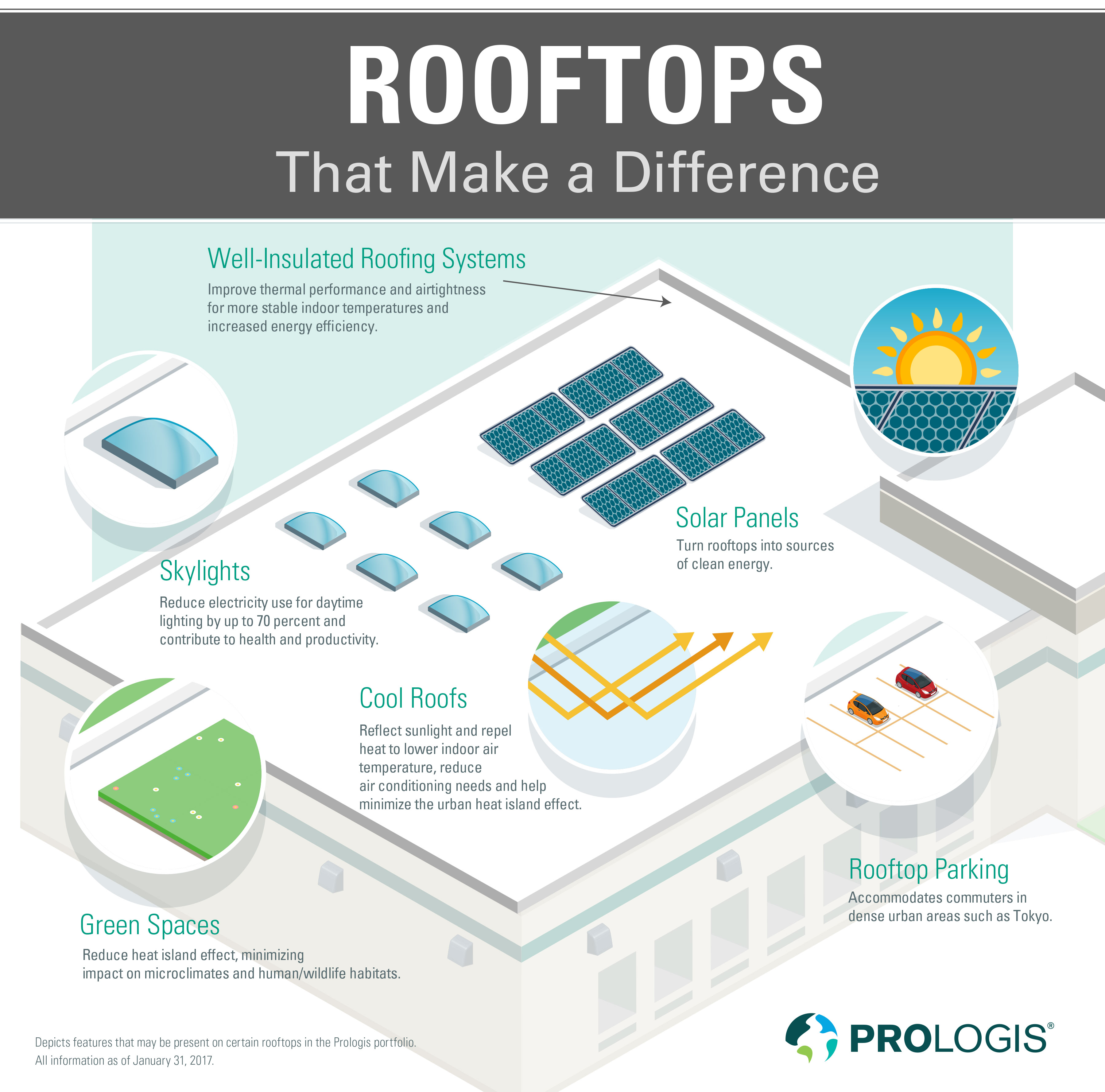 With a global portfolio of more than 3,000 rooftops in 19 countries, Prologis sets the standard when it comes to roofs. As the leading provider of sustainably designed warehouse and distribution centers, we continually invest in our rooftops, knowing that the potential for our rooftops far exceeds their initial mandate as part of the shell of our buildings—they protect our valued customers' goods and operations. And, they deliver economic and environmental value thanks to our enduring sustainability efforts.
Solar Panels – Hosting more than 165 megawatts of owned and third-party rooftop solar across nine countries, with an increase of 18 MW in 2016, Prologis has turned many of its rooftops into clean energy generators—enough clean energy each year to power 24,500 average-size homes. Our solar installations increase revenue from our properties, reduce demand from traditional energy sources and help meet established renewable portfolio goals and standards.
Deliberate daylighting design – Using natural light from skylights and clerestory windows can lower electricity use and associated greenhouse gas emissions as well as create pleasant and efficient indoor work environments.
Well-insulated roofing systems – Insulation improves thermal performance and air-tightness for more stable indoor temperatures and better energy efficiency.
Reflective roofing material – Light-color, reflective roof materials and finishes, also known as "cool roofs," offer equal performance at essentially the same cost as other materials while reducing the urban heat island effect and providing a more comfortable work environment. Cool roofs can also lower operating costs by reducing energy use in air conditioned spaces.
Green spaces – The soil in green roof systems absorbs excess rainwater and can greatly reduce runoff, diminishing a building's impact on the municipal storm drainage system and surrounding watershed. Green spaces on rooftops also reduce the urban heat island effect, diminishing impacts on microclimates and human/wildlife habitats.
Rooftop parking – A small number of Prologis warehouses in dense urban areas such as Tokyo and Osaka have rooftop vehicle parking, reducing the reliance on available land for parking lots or structures.