Prologis Releases 2012 Annual Report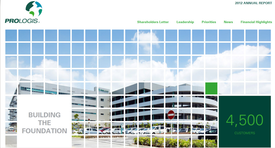 "Last year marked a significant milestone for Prologis as we concluded our first full year of operations as a new company," said Hamid Moghadam, the company's chairman and CEO. "Our business continued to strengthen as global demand for high-quality logistics facilities increased, due to growing consumption and supply chain reconfiguration."
The new Prologis is a result of the merger of ProLogis and AMB Property Corporation, which closed in June 2011.
Some report highlights include the following:
A record leasing volume of 145 million square feet (13.5 million square meters) across the 21 countries of the company's portfolio.
Increased occupancy to 94 percent, up 330 basis points since the 2011 merger.
More than $2 billion in dispositions of nonstrategic assets since the merger, with an average stabilized capitalization rate of 7.1.
Nearly $1.6 billion in development starts; approximately 57 percent of 2012 starts were customer-driven build-to-suit facilities.
Planned liquidation or restructuring of seven co-investment funds since the merger, six of which were rationalized in 2012.
Two newly formed ventures announced, one for an European portfolio and another for a Japanese investment vehicle.
About $1.9 billion in private capital raised in 2012.
More than $2 billion in revenue for the year.
Improvements to the company's capital structure, balance sheet and liquidity.
The interactive report includes complete financial information about the company's 2012 performance. See the entire report here.