Prologis Publishes 2014 Annual Report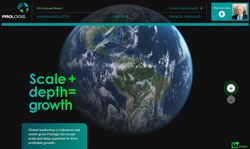 Prologis' 2014 Annual Report, which is now online, details a year of strong performance across all three of the company's business lines and speaks to the firm's strong leadership, global scale and best-in-class portfolio. In his opening letter to shareholders, chairman and CEO Hamid R. Moghadam speaks to the company's three-part strategic plan:
capitalizing on the global rental recovery
putting the company's land bank, talent and capital to work to serve the needs of customers
leveraging scale to drive growth and create value
This year's annual report demonstrates the company's fresh, new approach to building the brand's digital presence. In addition to stronger graphics and greater interactivity, the video address from Mr. Moghadam takes a dynamic approach to telling the company's story.
Reflecting the company's culture of teamwork, Mr. Moghadam closes his remarks by recognizing the passion, professionalism and commitment of Prologis employees, emphasizing that "they are a source of great pride, and the foundation of our success." You can view the online-only report here, or download a PDF here.