Prologis is Lead Sponsor and Case Author for MBA Case Competition, Carlson Elite Eight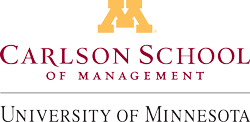 Prologis recently had the honor of being the lead sponsor and case author for the Carlson Elite Eight, a marketing case competition that brings together top brand management students, professionals and academics for an event addressing the challenges facing brand managers in today's competitive marketplace.
Eight teams weighed in with their recommended digital strategies and tactics for Prologis, presenting ideas that were strategic, innovative and compelling. The team from the Kellogg School of Management at Northwestern University won the competition with a slate of recommended activities that included an educational microsite that serves as a guide to selecting and leasing industrial real estate for emerging e-commerce companies, expanded and branded presence on property aggregators like Co-Star, an Internet-of-Things building automation system that helps customers ensure the efficiency of their operations across Prologis properties, and a virtual design simulator for build-to-suits. The Kellogg team drove their recommendations from a thoughtful, strategic segmentation of Prologis customers and a brand focus on superior service. The team from the University of North Carolina Kenan-Flagler Business School took second place and the University of California, Berkeley, Haas School of Business rounded out the top three.
Larry Harmsen, Prologis COO for the Americas, marveled at the fresh ideas he saw in his role as judge: "These were some terrific presentations, and some truly stand-out ideas. Choosing a winner wasn't easy."
As lead sponsor of the event, Prologis watched the nation's preeminent MBA students devise solutions to a current brand management challenge. Judge Janneke Leegstra, vice president, Marketing & Communications for Prologis Europe, said, "It was wonderful to see such a high level of engagement from so many talented young marketers all focused on our digital experience opportunity. Teams produced brand positioning, segmentation schemes, robust digital experiences and even prototypes for new Prologis mobile apps. I was impressed."
Alex Roddy, Prologis' global head of marketing, noted, "The teamwork was first-rate, and—as teamwork so often does—it resulted in some amazing insights and ideas. I think my favorites were the tenant portal, video and virtual reality property tours, the Prologis story booth and all of the mobile apps. Great ideas for future digital experience work. Big thanks to all of the competitors!"
Prologis is the worldwide leader in industrial real estate. The company's new marketing leadership is focused on using the strategic tools and techniques of marketing to differentiate Prologis from other logistics real estate companies and solidify the company's unique position in the marketplace. Participating in programs like the Carlson Elite Eight gives Prologis access to top up-and-coming marketing minds who represent perspectives from the Millennial generation, who are digital natives. This generational expertise drove the Marketing department's decision to focus on digital marketing challenges and opportunities.
Congratulations to the Carlson Elite Eight winners! We'll be watching closely to see what the future holds for this amazing group of talent.