Prologis JREIT Completes IPO
NPR completed an IPO of 182,350 units, consisting a domestic offering of 109,410 units (60 percent of units outstanding) and an international placement of 72,940 units (40 percent of units outstanding). Prologis will retain at least a 15 percent ownership interest in NPR.
"We are very pleased with the exceptionally strong interest in NPR's initial public offering, which highlights the quality of our industry-leading team and portfolio," said Hamid Moghadam, Prologis' chairman and CEO. "NPR provides investors with a unique investment opportunity and further positions Prologis for sustained growth in Japan."
Prologis contributed 12 Class-A properties in Japan to NPR for initial consideration of approximately JPY 173 billion ($1.9 billion). NPR has exclusive negotiation rights for eight additional properties owned by Prologis and will receive pipeline, operational and personnel assistance under a sponsor support agreement. In addition, wholly-owned subsidiaries of Prologis will serve as NPR's property and asset managers.
This announcement is not an offer of securities for sale in the United States or any other jurisdiction. Securities may not be offered or sold in the United States unless they are registered or exempt from registration.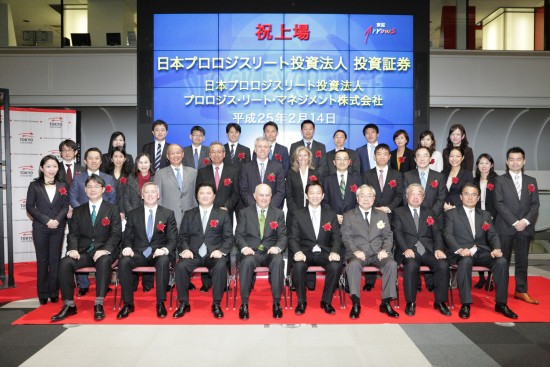 Prologis REIT Management team, Prologis Japan management team, NPR's supervisory directors and Prologis corporate executives were on hand in Tokyo for NPR's opening day on the Japan Stock Exchange.