Prologis China Takes Home Honors
Prologis was the only winner from China among those eight winning projects, and "no companies from China achieved a higher award than Prologis," said Sonia Mison, general manager of International Property Awards, which oversees the Asia Pacific awards program. Prologis received the award at a ceremony in Kuala Lumpur, Malaysia, on 10 May 2013.
The Prologis Chengdu Airport Logistics Center comprises three facilities totaling 601,700 square feet (55,900 square meters) completed in 2012. With its proximity to the Chengdu International Airport and the city center, the Chengdu Airport Logistics Center is ideally located to facilitate regional distribution for global customers.
The company also recently received several other prestigious awards, including "e-Commerce Logistics Park Provider of the Year" for excellence in service and the "Five-Star Warehouse" award for six Prologis properties across China. Class-A facilities such as these are in high demand, due to China's increasing domestic consumption.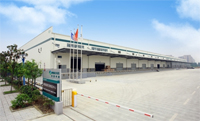 In addition to speculative developments like those in Chengdu, Prologis China is also active in built-to-suit development. The company is currently constructing two facilities for Deppon, a leading Chinese logistics provider, totaling 452,000 square feet (42,000 square meters). The new Class-A buildings will be located in southern China at the Prologis Dongguan Shipai Logistics Center and will serve as a regional distribution center for the East Pearl River Delta region.
Prologis' development activity in China is driven by the need for Class-A space to serve the country's demand for consumer goods resulting from a burgeoning middle class. "Eighty percent of our business in China is based upon domestic consumption, which is the future of China's economic model, rather than the export machine that exists today," said Ben Cornish, Prologis China's president. "We now have 17 projects in 11 different cities in the four highest GDP growth areas of the country."
Learn more about our platform in China here and at our Prologis China Website.