Prologis CEE Wins Big

Organized annually by CEE Insight Forum in association with the Financial Times, the CEEQA was established to recognize business excellence in commercial real estate across 18 European countries. The gala is the largest real estate awards event of its kind on the continent. Prologis was recognized as the 2014 Industrial Developer of the Year, beating out eight competitors.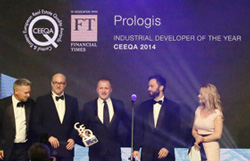 "The CEEQA recognizes a wide range of real estate achievement across Central & Eastern Europe, of which industrial is just one part," explained Ben Bannatyne, managing director for Prologis CEE. "To reach this level of visibility is truly an honor and a testament to all the hard work our team. They are to be congratulated for this remarkable success."
The awards are judged by a jury panel of senior industry professionals active in the sector. Judging was supervised by Deloitte. See a list of all winners here, and download a free 16-page event brochure.