Prologis CCP Cajamar I Project Classified as First AAA Logistics Park in Brazil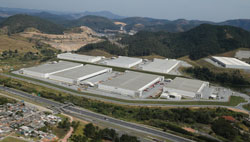 The Prologis CCP Cajamar I project is the first logistics park in Brazil to receive the coveted AAA rating from the Nucleo de Real Estate (NRE) at the University of Sao Paulo's Polytechnical School.
Cajamar I is a seven-building, two-million-square-foot complex located adjacent to Anhanguera Highway and 15 kilometers from the Rodoanel Ring Road near Sao Paulo. The master-planned park, which is 100 percent leased, counts tenants such as Schneider Electric, S.C. Johnson and Zara Brasil. According to Hardy Milsch, senior vice president and country manager for Brazil, "Cajamar I anchors our growing presence in Brazil's vital logistics market. Its success highlights our commitment to building facilities to global standards for our Brazilian customers."
The NRE is an independent organization that analyzes and classifies real estate in accordance with criteria and quality requirements identified by major players in Brazil's real estate sector, such as a building's physical attributes and location. "NRE's office building classification is a standard in Brazil, and we are pleased that NRE is now applying those ratings to logistics properties," said Roberta D´Andrade, head of property management at Prologis CCP.
For nearly a decade Prologis has been working with its joint venture partner, CCP, to develop Class A logistics space from the ground up in Sao Paulo and Rio de Janeiro. The joint venture's Brazil portfolio today includes 22 buildings in eight parks, as well as several sites for future development.
The certification effort was supported by Hilton Rejman, a veteran executive at Prologis CCP, following a process CCP previously employed for its office building portfolio. According to Milsch, "This was a team effort lead by Roberta D'Andrade. Our property management and development teams provided information and specifications in the design phase. Then, they worked to ensure that the requisite, accompanying physical inspections were completed."
By constructing state-of-the-art, convenient, 21st-century logistics facilities, Prologis CCP is playing an important role in the modernization of Brazil's distribution systems and consumer economy. Seeking and securing independent ratings marks an important step in the maturation of the Brazil logistics real estate market. The company expects that other parks in the portfolio will receive such ratings in the near future. "We are proud and grateful for this recognition, and we are looking forward to years of continued growth in Brazil," said Roberta D'Andrade.