Prologis and ULI Announce WLI Scholarship Recipients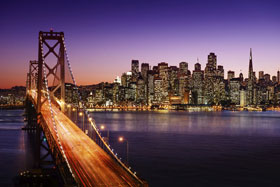 Prologis partnered with the ULI Women's Leadership Initiative (WLI) to sponsor ten emerging women leaders in real estate with scholarships to attend ULI's Fall Meeting in San Francisco.
These scholarships reflect the company's commitment to creating a dynamic and inclusive environment as well as its support for the ULI Fall Meeting. Prologis is a platinum sponsor of the meeting, which will be held Oct. 5-8, 2015.
In 2014, a group of Prologis' senior-most women created Breakthrough, a global program designed to support the retention and advancement of women across the company. The Breakthrough model—leading, developing, mentoring, networking and engaging in candid dialogue—encourages formation of local and regional networks and fosters cross-functional relationships among women at all levels.
"We are thrilled to be offering these outstanding women the opportunity to experience all the ULI Fall Meeting has to offer, from meaningful networking to highly informative discussions on a wide range of industry issues," said WLI Chair Wendy Rowden, president of the 42nd Street Development Corporation in New York City. "This scholarship program is incredibly competitive, and we couldn't be more impressed with the leadership of these ten winners, both within their organizations and at ULI."
The ten WLI/Prologis Scholarship recipients receive complimentary registration to the ULI Fall Meeting and up to $2,000 in travel funds. In addition, senior WLI members will host the winners at a Product Council and at all WLI-branded Fall Meeting events. Prologis will host winners in a unique forum at the company's headquarters.
The WLI Selection Committee chose the following scholarship recipients from a highly competitive global applicant pool:
Tracey Ferguson, ULI Sacramento 
Vanessa Muscara, ULI United Kingdom 
Kristin Olson, ULI Atlanta
Alysia Osborne, ULI Charlotte
Lauren Sanders, ULI New York 
Kristine Smale, ULI Southwest Florida
Cyndi Thomas, ULI Colorado
Pam Thompson, ULI North Texas
Amanda Tropiano, ULI Orange County/Inland Empire
Elizabeth Wendell, ULI Los Angeles
Congratulations to the WLI Prologis Scholarship Program.