Prologis Among Top 20 in 2015 Newsweek Green Rankings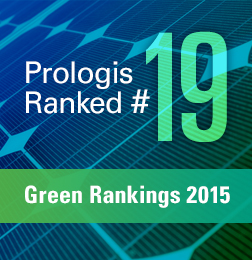 The Newsweek Green Rankings, the magazine's annual assessment of the 500 largest publicly traded companies in the United States by market capitalization, ranked Prologis at number 19. This is the second year running that Prologis has numbered among the nation's top 20.
Newsweek partners with Corporate Knights Capital and HIP Investor to complete its annual ranking. Corporate Knights, the parent company of Corporate Knights Capital, has conducted corporate sustainability assessments for more than 10 years. HIP Investor rates companies and investments based on their social benefits.
Companies are graded on eight key indicators:
combined energy productivity
combined greenhouse gas productivity
combined water productivity
combined waste productivity
green revenue score
green pay link
sustainability board committee
audited environmental metrics
"Across the globe, Prologis is committed to minimizing the environmental impacts of our operations and development activities in ways that benefit our customers, our business and the communities where we live and operate," said Jack Rizzo, managing director, global construction development services. "We support our commitment with global initiatives to reduce energy and water consumption, decrease greenhouse gas emissions and expand our portfolio of sustainably certified buildings. Specific programs include energy-generating rooftop solar, energy-efficient building insulation, high-efficiency LED lighting, cool roofing, low-flow plumbing, drought-tolerant landscaping and rainwater capture for irrigation."
Every year, Prologis establishes goals, tracks progress and reports outcomes for the three dimensions of sustainability: Environmental, Social and Governance (ESG).
"We are proud to number among the top 20 for two years in a row," said Jeannie Renné-Malone, vice president, sustainability. "Our strong showing as the only real estate company to earn a top-20 distinction speaks to our diligence, foresight and planning and to our executive leadership's enduring commitment to sustainability. Wins like this motivate us to work even harder and reach even higher."