Pier 1 History Unfolds Online
The landmark building's design has become a model for collaborative workspace, sustainable development and public access. Now the story of Pier 1 is presented for the first time online. A collaborative effort between the City of San Francisco and Prologis, the website has collected documentary video interviews and footage, historical images, architectural drawings, contemporary photographs and descriptive text to tell the story of Prologis' transformation of a neglected warehouse and pier into a vibrant headquarters and public destination.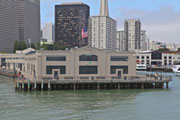 The renovation of the building, opened in 2001 and now listed on the United States' National Register of Historic Places, was in part the result of a new type of public-private partnership with the Port of San Francisco. The project became a blueprint for the re-development of the nearby historic Ferry Building, Exploratorium museum and waterfront development in San Francisco and across the country.
Learn more about the Pier 1 story at prologispier1.com.