From Landfill To LEED
Sustainability, Capabilities
Known as Prologis Pulaski Distribution Center, the facility at the former Superfund clean-up site already has leases with 2 customers. International retailing group Ahold will occupy 345,000 square feet, and Imperial Bag & Paper Company, a wholesale packaging distributor, will occupy 395,000 square feet at the park. An additional 140,000 square feet space will also be included as part of the development. The remaining balance of the parcel will be converted to green space. Prologis Pulaski Distribution Center is strategically located near the Pulaski Skyway, four miles from the Port of New York / New Jersey and about three miles from both New York City and the New Jersey Turnpike.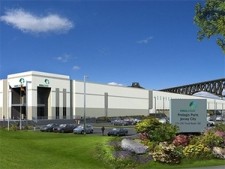 Extensive environmental clean-up work was completed earlier at the site under the supervision of state and federal regulatory agencies. Since acquiring the site in 2008, Prologis has worked in partnership with the U.S. Environmental Protection Agency and the New Jersey Department of Environmental Protection to implement a development plan that returned the site to productive use and resulted in permanent capping and closure of the landfill. Construction on the Class- A distribution facilities began in April and is expected to be coming in the spring of 2014.
Attending the groundbreaking were Kim Guadagno, lieutenant governor of the state of New Jersey, along with Hamid Moghadam, Prologis' chairman and CEO, as well as other Prologis executives. "This is an important development project for Jersey City that will transform this former waste disposal site, help to advance economic conditions and improve the local community," said Jay Cornforth, president of Prologis Americas' East Region. "By identifying strategically-located properties, applying our brownfield development and redevelopment expertise, and bringing Class-A facilities to market, we are able to offer our customers a key location in northern New Jersey, one of the most dynamic and land-constrained infill areas in the United States."
Within the New York/New Jersey market, Prologis owns and manages more than 22 million square feet of distribution space in 182 facilities that are currently 94 percent leased.