Hurricane Patricia Tests Prologis Disaster Recovery Plan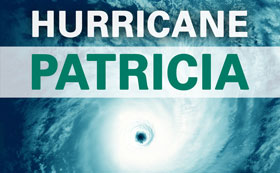 With Hurricane Patricia bearing down on Mexico's west coast and some of Prologis' key markets in its projected path, it was clear that the company's Disaster Recovery Plan was going to be tested.
Three cities in which Prologis operates were in the path of the storm as it grew in strength on its way to a direct hit in Mexico: Reynosa, on the south bank of the Rio Grande (Rio Bravo); Monterrey, to the south; and Guadalajara, which is about 125 miles inland from the west coast.
The Disaster Recovery Plan was put into action the day before the storm was forecast to make landfall. Teams mobilized and confirmed the locations of key power, gas and water controls for all properties. They reached out to customers, providing and verifying direct contact information—monitoring and communication would be essential to Prologis' storm response. Local teams also put general contractors and specialists on standby as soon as conditions were declared safe once the storm passed.
Both Monterrey and Guadalajara were hit by heavy rain and winds beginning Friday night and continuing into Saturday morning. Once conditions cleared, teams in the field were happy to report that Prologis properties experienced no serious damage thanks to preparedness plans that protected drainage areas and cleared downspouts in advance of the storm.
In Reynosa, heavy rains led to widespread flooding and power outages in the city and along the valley of the Rio Grande. Despite that, Prologis customer operations were not affected—the result of effective preventive measures implemented before the storm and the rapid response by the local team, supported by local services.
As soon as the storm passed, property management teams began to inspect every Prologis facility to ensure that all were safe and in working order.
"I cannot be more proud of our team and the way our Disaster Recovery Plan worked," said Héctor R. Ibarzábal, Managing Director, Prologis Mexico.