High Demand for High Quality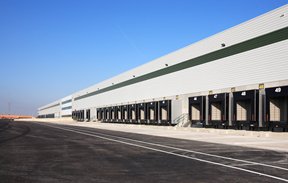 "Take-up across Europe remains strong," said Philip Dunne, president of Prologis Europe. "Despite the uncertain economic environment, demand for high quality logistics facilities continues to be driven by the reconfiguration of the European supply chain, trade, and the growth of e-commerce."
New leases in the quarter totaled nearly 1.5 million square feet (137,200 square meters) and illustrated the range of industries demanding modern logistics facilities:
In Spain, a 468,200 square foot (43,500 square meter) new lease with document and business process company Docout
In Germany, a 86,100 square foot (8,000 square meter) new lease with third-party logistics provider Euro Pool System
In Poland, a 290,600 square foot (27,000 square meter) new lease with supermarket chain Stokrotka
Also in Poland, subsequent to quarter end, Prologis signed a build-to-suit agreement for a 197,000 square foot (18,300 square meter) facility at Prologis Park Wrocław V with food, beverage and household goods distributor Tradis.
Several significant lease renewals were inked in the first three months of the year across the continent, totaling approximately 3.9 million square feet (362,000 square meters):
Hungary: a total of 122,700 square feet (11,400 square meters) for the renewal and expansion at Prologis Park Hegyeshalom for Fiege, a Germany-based 3PL
Slovakia: 272,300 square feet (25,300 square meters) at Prologis Park Bratislava for a global freight forwarder
Netherlands: 215,300 square feet (20,000 square meters) at Prologis Park Massvlakte for a warehousing services firm, and 209,200 square feet (19,400 square meters) at Prologis Park Schiphol for 3PLs
Germany: 108,700 square feet (10,100 square meters) at Prologis Park Waltershof for a 3PL
"It is clear that there is no shortage of demand for high-quality, modern, strategically located logistics real estate in Europe," said Dunne. "This gives further reason for optimism as we look ahead to the rest of 2013 and beyond."
Learn more about our industry-leading platform in 14 European countries here.