Head of The Class in Japan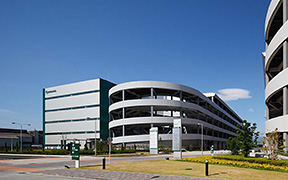 Limited quality land site availability and the drive to reconfigure and consolidate distribution networks has given rise to multi-story logistics facilities in Japan. Prologis was an early adopter of multi-story solutions in the country. Prologis Park Zama 2, completed in August 2012 and certified later that year, incorporates numerous sustainable design and engineering features that earned it industry accolades as well as the highest rating in Japan's green building certification program:
A seismic isolation structure keeps the facility stable during catastrophic events
Steel insulated sandwich panels and an insulated double folded-plate roof reduce impact on the environment
High-efficiency lighting and motion detection sensors reduce power usage
Utilization of renewable energy from a 1-megawatt rooftop solar installation supplies power for a portable battery and telecom system in the case of power failure
Rainwater collection systems irrigate the grounds, and a rainwater filtration system helps mitigate river flooding and contributes to groundwater conversion
12,000 square meters (three acres) of landscaping includes the planting of approximately 1,200 trees
Green spaces on the roof reduce heat island effects
Potable water is supplied through purifying the underground water system, useful in the case of interruption of conventional water supplies
Business continuity apparatuses such as generators, earthquake early warning systems and satellite phones help keep operations running during emergencies
Quality amenity space for employees such as a restaurant, convenience store, nursery and a drivers' lounge improve quality of life for customers
Prologis Japan will receive its award at a ceremony in Tokyo on June 24th. Learn more about this and other certified facilities in Prologis' portfolio here, and more about our platform in Japan here.