Customers Again Vote for Prologis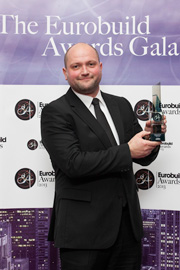 Eurobuild CEE is one of the most influential English real estate publications in Central & Eastern Europe. The annual tenant award covers all commercial real estate (retail, office and industrial) and begins with telephone interviews in July and August, concluding with a study in September. The survey covers 22 aspects of facility quality and service. The results in all three categories were announced at a gala in Warsaw on 5 December.
The winners in the warehouse category were as follows:
Prologis Park Sochaczew, Warsaw
Manhattan Business & Distribution Center, Warsaw
Panattoni Park Stryków
"Winning the Tenant Award means a great deal to us, because it is based on our customers' opinion, which is of paramount importance for us," said Roman Skowronski, vice president and head of property management at Prologis Poland. "Even though we won this same award last year, we worked hard to keep Prologis Park Sochaczew an award-winning property.
"For example, this year we launched an automatic meter reading system, which enables simultaneous reading, easy fraud detection, utility consumption illustration, easy cost forecasting, budget awareness and greater safety. We also added more car parking and rearranged gate and dock-door numbering to improve communications in the park."
Prologis Park Sochaczew is located approximately 31 miles (50 kilometers) east of the Warsaw city center, with direct access to major east-west transportation routes, both road and rail.   Dedicated railway siding and flexible facility design make this park ideal for customers like Procter & Gamble, DHL and Pilkington Automotive. The park currently comprises six buildings totaling over 1 million square feet (100,000 square meters); at full build-out it will offer nearly 2 million square feet (173,000 square meters) of logistics and distribution space in nine buildings.
Learn more about our platform in Poland.