Receiving, Inventory and Storage Terms
Cross Docking: "Cross docking" describes the process of transferring materials from one source of transportation to another. An example would be unloading inventory from one truck and loading it to another. "Cross docking" can also be applied in situations where materials are sorted for various locations or when materials from different origins are combined for delivery to a single destination.
Drayage: The term "drayage" is used when goods are transported over a short distance. An example would be the movement of goods from a port to a nearby storage facility. "Container drayage" is another variation of the term.
Inbound and Receiving Orders: "Inbound and receiving orders" is the phrase used when arranging the transport, storage and management of products or inventory arriving at a warehouse.
Intermodal Transport: "Intermodal transport" means that freight is being moved via an intermodal container and through multiple modes of transport (e.g., ocean, rail or road). Because the cargo is contained and not handled, it typically means less cargo handling time, improved security, less damage and fewer losses.
Kitting: The term "kitting" is applied when filling orders by pre-assembling individual items into ready-to-ship kits. Kitting involves grouping, packaging and delivering separate, yet related, items as one unit.
Pick and Pack: "Pick and pack" describes the part of the shipping process where inventory is pulled from storage and then packed and labeled for distribution and transport.
Replenishment: "Replenishment" is the term for ordering additional inventory to restore depleted stock levels.
Segregation: When a variety of different items are received in one shipment, they are organized into groups to make picking, packing and shipping easier. This process is known as "segregation."
Transloading: "Transloading" is similar to cross docking, except transloading cargo is moved between two different modes of transportation if one type of transport isn't suitable for the entire delivery. For example, this term would be used for cargo moved from one mode (e.g., rail) to another (e.g., truck) in order to complete the delivery.
Warehouse Documentation Terms
Bill of Lading: A "bill of lading" (BOL) is a document issued by a carrier that declares goods have been received for transportation. If "BOL" is preceded by the word "through," it means the goods will be transported using two different modes of transport.
Consignee: "Consignee" is the title of the individual who receives goods that are being transported. Consignees can refer to anyone receiving a delivery, from end customers to warehouses or other third parties.
CTPAT: "CTPAT" is an acronym for a U.S. Customs security program, called Customs-Trade Partnership Against Terrorism, which is designed to improve supply chain security and reduce the risk of it being associated with or affected by acts of terrorism.
Customs Bonded: A customs bonded warehouse is a secure facility where goods can be stored and managed without paying customs or import duties. While stored in a bonded warehouse, customs officials oversee the goods.
Customs Clearance: A customs clearance document shows that products moved between zones have cleared customs and any applicable duties were paid.
Free Trade Zone: A free-trade zone (FTZ) is an area where goods can be stored, handled, manufactured or reconfigured and then re-exported under specific customs regulations. When goods are stored in an FTZ, they are generally not subject to customs duty.
Freight Forwarding Agent: "Freight forwarding agent" is a term assigned to individuals, teams or businesses that organize shipments for other companies. These agents manage relationships with carriers and clients, create schedules, book truck space and manage most distribution needs.
Logistics: "Logistics" is the practice and process of managing the flow of goods between two or more points. It involves the management of data, transportation, inventory, warehousing, material handling, packaging and security.
Third-Party Logistics: "Third-party logistics" (3PL) is a service provided by companies that allows a client to outsource all or part of their supply chain. For example, a 3PL warehouse can order goods, receive and store inventory, pick and pack orders, and distribute orders for delivery to the end customer.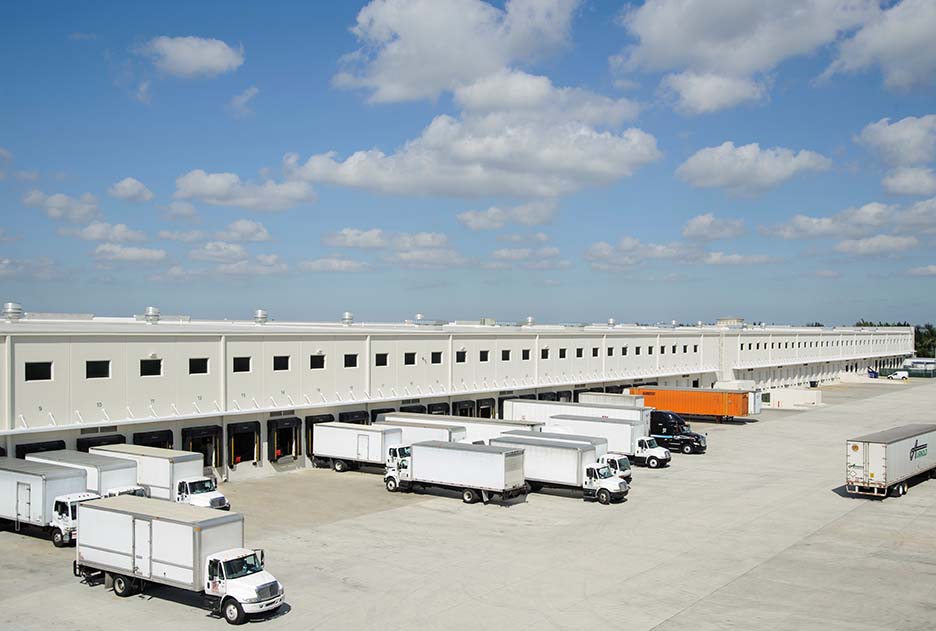 Industrial Technology Terms
Electronic Data Interchange: Electronic data interchange (EDI) is a technological framework that allows data to be transferred between organizations. The data can include documents, metrics, quantities or other information.
Online Order Management: Online order management allows clients and logistics providers to make, fulfill and manage orders online. Orders are usually made through a web portal that is integrated with the warehouse's inventory management system.
Tracking (Online): Tracking allows clients and logistics providers to follow the movement of their deliveries through the supply chain online.
Radio Frequency Tracking: Radio frequency tracking uses radio frequency transmitters and receivers to monitor the progression of shipments in the warehouse and/or throughout the supply chain.
Software Integration: Software integration involves a variety of software solutions used by warehouse and customer or supplier systems to maintain, manage and stay up to date on inbound inventory and outbound orders as they make their way through the supply chain.