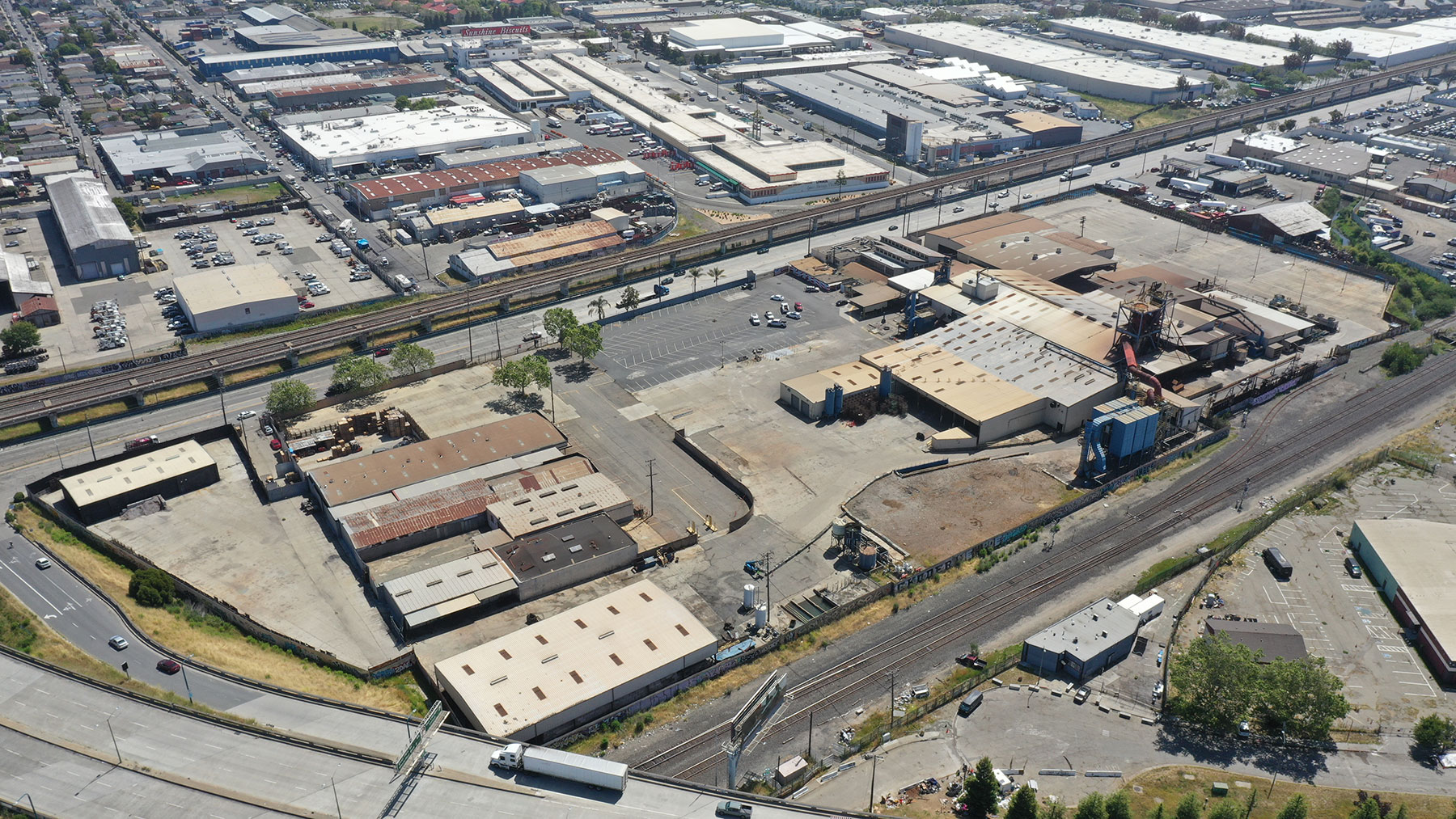 Background
The former AB&I Foundry site located at 7825 San Leandro Street (Property) consists of approximately 14.5 acres of commercial/industrial land. The former owner of the Property manufactured cast iron pipe and fittings on the site from 1940 until October 2022. Duke Realty Foundry LP (Owner) purchased the site in April 2022. 
Cleanup activities 
Due to historical industrial activities, the Owner is actively working with the Alameda County Department of Environmental Health (ACDEH) to fully investigate existing Property conditions. Site investigation/characterization is currently in process under ACDEH supervision.    
ACDEH oversees cleanup activities including dust management efforts when work involves the disturbance of potentially contaminated soil. The City of Oakland and the Bay Area Air Quality Management District (BAAQMD) oversee Owner's dust management activities during grading and construction work.   
Schedule 
Demolition of above-ground structures at the Property is expected to begin in September 2023. Environmental Subsurface Investigation is anticipated to be on-going through November 2023. Next steps are subject to subsurface investigation results. 
Mitigation Measures 
To minimize potential impacts to the community associated with demolition at the Property, all such work will incorporate the following elements: 
Dust Management
Working under the oversight of the City of Oakland, ACDEH, and the BAAQMD, the Owner and its contractor, Garrison Demolition Engineering (Garrison), will implement best commercial practices to manage and reduce dust during demolition and all soil-disturbing remediation activities. 
Additionally, the Owner has hired Roux Associates, Inc. (Roux), an environmental consultant, to implement the ACDEH-approved Community Air Monitoring Plan (CAMP). Under the CAMP, Roux has the authority to stop work at the Property in the event of excessive dust and/or adverse site conditions. Measures identified in the CAMP to control dust at and from the Property include: 
Daily meetings among Roux and on-site construction crews to review the activities for the day and ensure appropriate dust control measures are in place. 

All exposed surfaces (e.g., parking areas, staging areas, soil piles, graded areas, and unpaved access roads) will be watered at least two times per day, and as necessary based on weather, wind, and Site conditions. 

Owner will maintain a real time particulate monitoring program as detailed in the CAMP with an alert system at the Property capable of notifying designated representatives when dust or wind speed action levels are exceeded. Locations of the planned monitoring locations are shown in the figure below. 

Plastic stockpile covers will be inspected daily and repaired or replaced as needed. 

A meteorological station will be rented to monitor weather conditions as part of the CAMP. 

Action levels for appropriate mitigation measures will be designed to allow site workers to take appropriate action before there is a health risk to workers or the community. 

Should action levels be exceeded, workers will cease or modify operations immediately until work can continue without generating excessive dust. 

Earthwork will be stopped when winds exceed 20 mph average over a period of approximately 15-minutes or if instantaneous wind speeds exceed 25 mph. 

All haul trucks transporting loose material off-site will be covered. 

Inspection of trucks before leaving the Site and, if necessary, power wash and clean truck tires prior to trucks leaving the Site. 

Streets in areas of active demolition or excavation will be swept regularly, or as necessary, to avoid excessive accumulation of dirt and dust. 

All vehicle speeds on unpaved roads will be limited to 10 mph. 

All stockpiles will be securely covered when not in active use and at the end of each workday.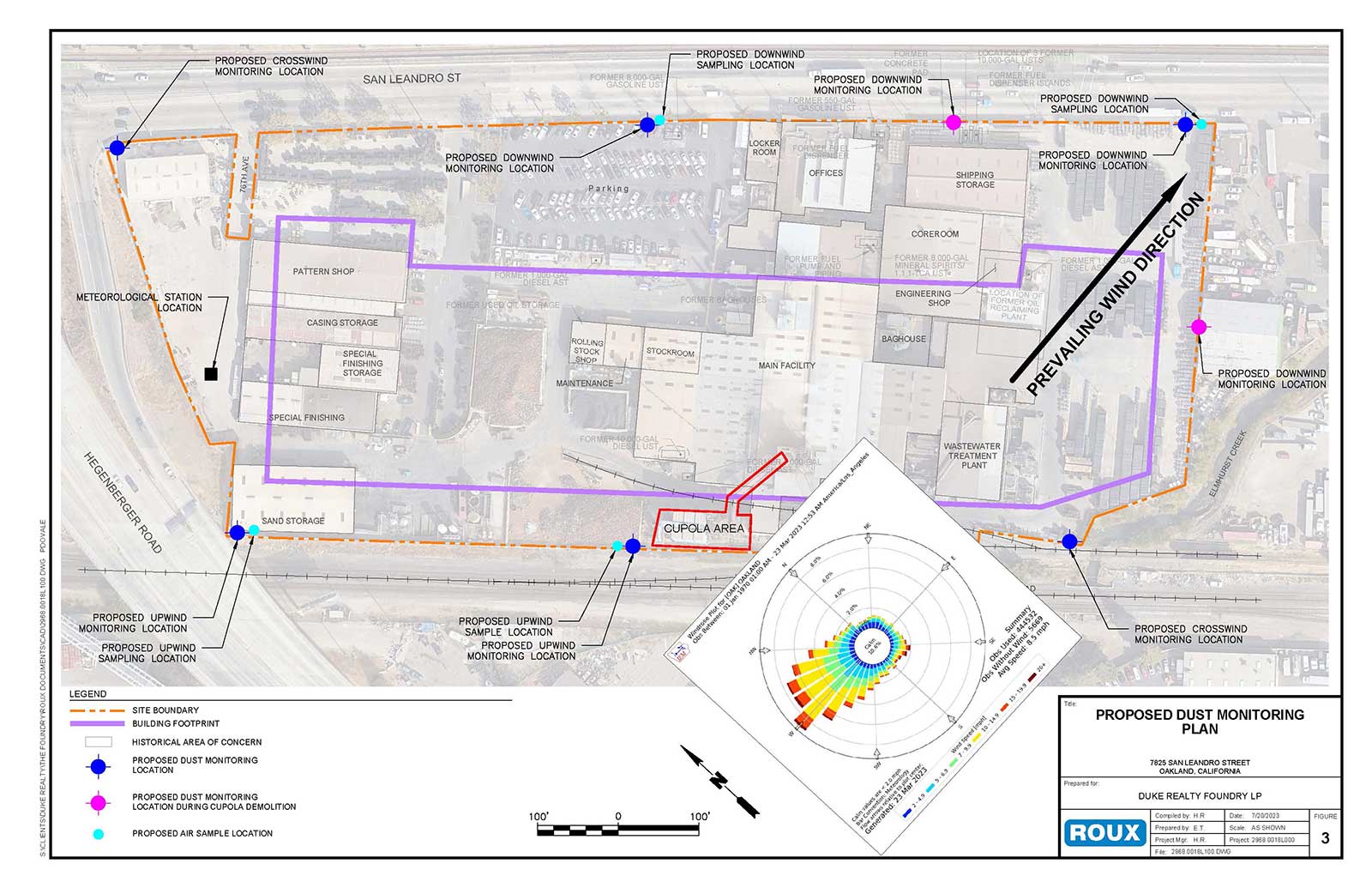 Site Plan showing Proposed Dust Monitoring Locations 
Air Monitoring 
Prior to demolition activities, baseline particulate and lead in air testing will be performed to establish baseline air quality conditions. 

During all demolition activities, particulate monitoring will be performed continuously. 

During demolition of the cupola and associated baghouses, lead in air testing will be performed twice a week. 
Noise/Vibration Management 
In areas of the site where 6-feet tall chain-link fencing is present, windscreens made of geotextile fabric will be installed as a noise/dust barrier. 

Drop heights will be kept to a minimum while loading transport vehicles or performing demolition activities. 

Redevelopment work will only be undertaken during normal working hours between 7:00 am and 5:00 pm Monday to Friday.

Machines in intermittent use will be shut down or idled during down periods to minimize noise and vibration. 

Regular maintenance of equipment and vehicles will be conducted to reduce noise from machinery. 

Where applicable, acoustic enclosures will be provided for ancillary equipment (i.e., generators). 

Where applicable, anti-vibration mountings will be fitted to rotating and/or impacting equipment. 
Truck Traffic Management 
All trucks entering and leaving the Site will follow the City-approved truck route. 

A stabilized construction entrance/exit will be constructed, or steel plates will be installed and used for any unpaved access way to the site. 

Any trucks entering or leaving the site will have certified flaggers at San Leandro Street to manage traffic. 
Stockpiles 
All on-site material stockpiles will be covered with weighted plastic sheeting or tarps when not in use. 
All stockpiles will be inspected daily. 
Non-structural demolition of the Property is currently in process. The Owner anticipates the work will be complete by December 2023. Building structures will be disassembled systematically and removed in accordance with the site-specific demolition permit and Community Air Monitoring Plan (CAMP). 
For more information 
Project-related documents are available on the site-specific GeoTracker website. Key documents include:
Project Updates 
Update as of September 27, 2023: Demolition work was conducted from 7:00 a.m. to 3:30 p.m., and air monitoring was conducted per the CAMP. There were no exceedances detected during the work.
During the week of September 18, 2023, the following actions were completed: Warehouse, office, and main structure demolition.
The following activities are anticipated for the week of September 25, 2023:  Warehouse, office, and main structure demolition.
Contacts 
If you have any questions or concerns regarding environmental conditions at the Property, please reach out to us. We will work with the on-site team to gather information and work to resolve your issue. You can expect a timely follow-up from our team. 
In addition, should you notice any dust that you believe may be coming from the AB&I Redevelopment project, please call Blair Rushing at (864) 238-8615, so we can address the situation in real time.